Speakers
Tribal Leaders Summit & Trade Show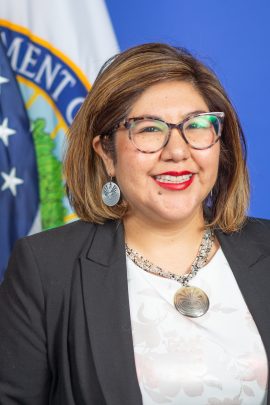 Naomi Miguel
Keynote Speaker Wednesday, September 6th 2023
Naomi Miguel, Ba'ag Nei'dam O'ks (Eagle Singing Woman), is a citizen of the Tohono O'odham Nation. Ms. Miguel is the Executive Director for the White House Initiative on Advancing Education Equity, Excellence, and Economic Opportunity for Native Americans and Strengthening Tribal Colleges and Universities.
Ms. Miguel formerly served as the Staff Director for the Subcommittee for Indigenous Peoples of the United States on the House of Representatives Natural Resources Committee. She served as a founding board member for the Congressional Native Staff Association and is a former Native American Congressional Intern for the Udall Foundation. Previously, Ms. Miguel worked for six years in the nonprofit sector at the Tribal Law and Policy Institute. She served four years as a Board Member and Board Secretary for Pukúu, a non-profit organization in Los Angeles.
Ms. Miguel received her Bachelor of the Arts in Political Science with minors in pre-law and art from Mount St. Mary's University, an all-women's college in Los Angeles, CA. She received her Master's in Public Administration and Policy from American University in Washington, D.C.
John Echohawk
Keynote Speaker - Thursday, September 7th, 2023
John Echohawk, Pawnee, is the Executive Director of the Native American Rights Fund, the oldest and largest nonprofit legal organization asserting and defending the rights of Indian tribes, organizations, and individuals nationwide. He was the first graduate of the University of New Mexico's special program to train Indian lawyers, and was a founding member of the American Indian Law Students Association while in law school. John has been with NARF since its inception in 1970, having served continuously as Executive Director since 1977.
He has been recognized as one of the 100 most influential lawyers in America by the National Law Journal and has received numerous service awards and other recognition for his leadership in the Indian law field.
He serves on the Boards of the American Indian Resources Institute, the Association on American Indian Affairs, the Indigenous Language Institute, Natural Resources Defense Council, and the National Center for American Indian Enterprise Development. B.A., University of New Mexico (1967); J.D., University of New Mexico (1970); Reginald Heber Smith Fellow (1970-72); Native American Rights Fund (August 1970 to present); admitted to practice law in Colorado.
See John's resume to learn more about his experience and credentials.